SERVICES
Epoxy Solids Color

Service in California
Introducing the Epoxy Solid Color – a revolutionary coating system that utilizes a unique blend of epoxy, polymers, and special additives to deliver unparalleled protection and performance for your floors.
When durability, ease of cleaning, and resistance to water, chemicals, and wear are paramount, the Epoxy Solid Color system is the ideal choice. Once cured, the floor finish boasts exceptional durability and resistance to wear and tear, ensuring a long-lasting solution for commercial or residential settings.
The glossy and attractive finish of the Epoxy Solid Color is not only visually appealing but also easy to maintain, making it a practical option for any high-traffic area. This two-component system consists of a base coat applied to the concrete substrate and a top coat applied over the base coat, ensuring a seamless and robust finish.
In addition to its durability, the Epoxy Solid Color finish is also stain-resistant, making it suitable for areas prone to spills and heavy traffic. The combination of epoxy and polymers creates a strong bond between the coating and the substrate, providing superior protection against water, chemicals, salt, and other environmental hazards.
Choose the Epoxy Solid Color system for a cutting-edge flooring solution that delivers unmatched performance and aesthetics. Contact us now to learn more about how our Epoxy Solid Color system can elevate your space to new levels of durability and beauty.
GET NOW A FREE QUOTE
Fill this form below and we will get back to you as soon as possible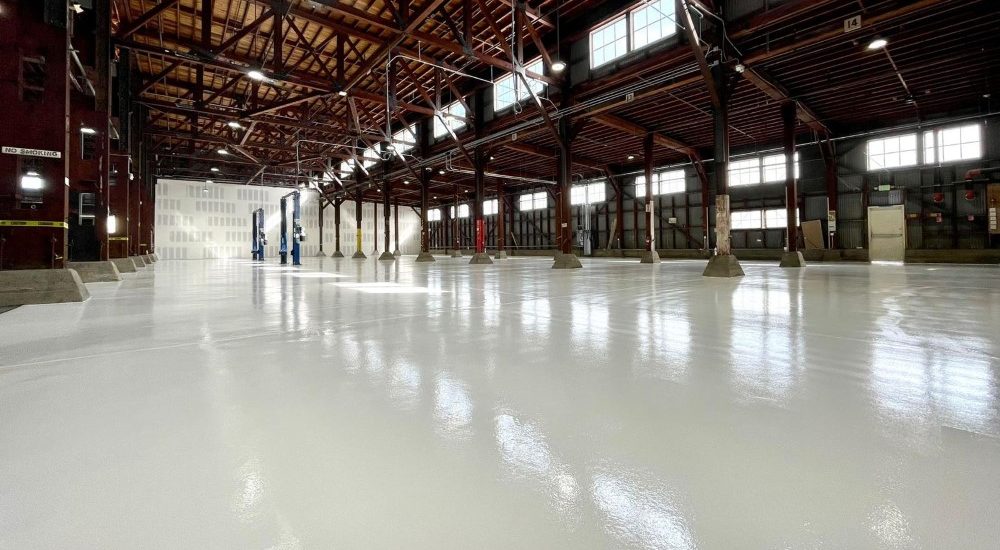 Industrial warehouses
Manufacturing facilities
Commercial kitchens
Restaurants
Retail stores
Auto repair shops
Basements
Garages
Patios
Decks
Laundry rooms
Bathrooms
Playrooms
Schools
Hospitals
Laboratories
Exceptional Durability: The Epoxy Solid Color finish is known for its outstanding durability, making it an excellent choice for high-traffic areas and spaces exposed to harsh chemicals, such as laboratories and garages.
Easy to Clean and Maintain: The smooth and seamless surface of Epoxy Solid Color makes it easy to clean and maintain. It resists stains, dirt, and grime, making it ideal for areas that will see frequent use.
Slip-Resistant: Epoxy Solid Color is designed to be slip-resistant, providing added safety in areas that are prone to moisture or spills, reducing the risk of accidents and falls.
Wide Range of Colors: With a variety of colors available, Epoxy Solid Color offers the flexibility to customize the appearance of your floor, allowing you to create a unique and personalized look.
Budget-Friendly: Compared to other flooring options, Epoxy Solid Color is relatively cost-effective, making it a budget-friendly choice for those looking for a durable and attractive flooring solution without breaking the bank.
Low-Maintenance: Epoxy Solid Color requires minimal maintenance, saving you time and effort in upkeep. It is resistant to chipping, peeling, and fading, ensuring a long-lasting and low-maintenance flooring solution.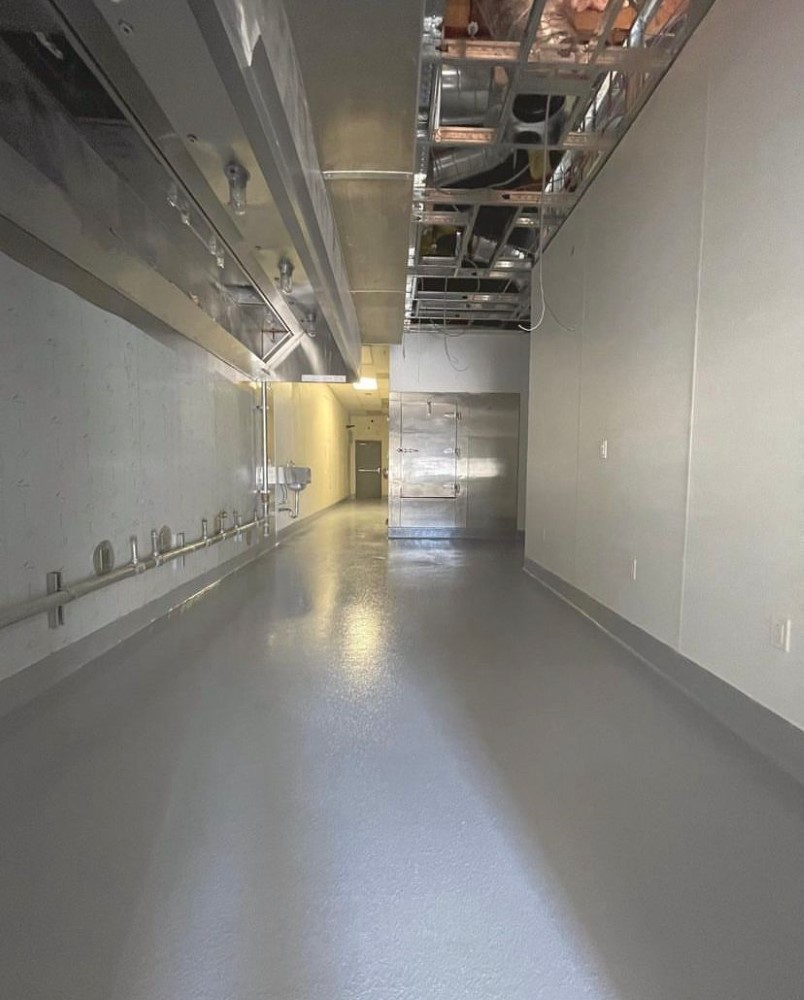 a) Pre-Epoxy System
Surface Preparation:

We use advanced techniques such as grinding or decontaminating the concrete, as needed, to ensure a clean and properly primed surface for the epoxy application.

Cracks Treatment:

We utilize specialized products and techniques to effectively fix, fill, and seal cracks before proceeding with the Epoxy Flakes System.
b) Epoxy Solid Color system
The Epoxy Solid Color system is a combination of two components that react together to form a cross-linked, three-dimensional polymer network.This advanced system offers superior corrosion resistance, superior adhesion and superior durability.
Priming:

  Priming is a crucial initial step in our process. This primer creates a strong bond between the system and the substrate, promoting a flawless and long-lasting finish.

Finish:

The Finish is the heart of the Epoxy Solid Color system. Our high-quality Epoxy Solid Color Coat or Base Color is meticulously applied to achieve a stunning, uniform appearance.

Top or Final Coat:

As the Top or Final Coat, we utilize a premium Polyaspartic coating, specifically chosen for its unrivaled resistance and durability. This top coat provides exceptional protection against wear and tear, UV rays, and chemical exposure, ensuring a floor that remains pristine and beautiful for years to come.
The process starts with thorough surface preparation to ensure a flawless result. The floor is meticulously cleaned to remove dust, dirt, oil, grease, and other contaminants, and any weak or damaged areas are expertly repaired.
Once the surface is properly prepared, a primer coat is applied to establish a strong bond between the existing floor and the epoxy system. 
The epoxy is then applied using professional-grade rollers or brushes to ensure even coverage and a smooth finish. For added protection and a stunning glossy appearance, a top coat of sealer can be applied as the final step. This top coat not only enhances the aesthetic appeal of the floor but also safeguards it from wear and tear.
To ensure the highest quality result, it is crucial to allow the epoxy to cure fully before the floor is put into use. Our team takes great care in ensuring that the epoxy cures completely to achieve a durable, long-lasting finish that exceeds your expectations.
Trust us for expert application of our Epoxy Solids Color system, backed by our commitment to excellence in all the processes. Your satisfaction is our top priority, and we guarantee a superior result that will elevate the look and performance of your floor.