SERVICES
Flake Epoxy Flooring

Service in California
The Flake Epoxy Flooring system is a popular and sought-after coating solution that exudes a contemporary and elegant aesthetic. This modern epoxy flooring option features an array of chip sizes, including ½, ¼, or ⅛ chips, meticulously crafted to enhance the visual appeal of your floor.
If you are in search of the ideal flooring solution for your residence or commercial space, the Flake Epoxy Flooring system may be the perfect choice. Composed of high-quality polymer resins and hardeners, this flooring system creates a durable, visually appealing, and low-maintenance surface suitable for various settings.
While primarily designed for residential car garages, the versatility of Flake Epoxy Flooring allows it to be utilized in a multitude of other spaces as well, making it an ideal option for busy households or commercial establishments.
The Flake Epoxy Flooring system consists of a base coat and a topcoat of polyurethane or epoxy, which are further adorned with small, colored vinyl chips or flakes in varying sizes, shapes, and colors. This adds an extra layer of visual interest and customization to the flooring, elevating its overall aesthetic and functionality.
GET NOW A FREE QUOTE
Fill this form below and we will get back to you as soon as possible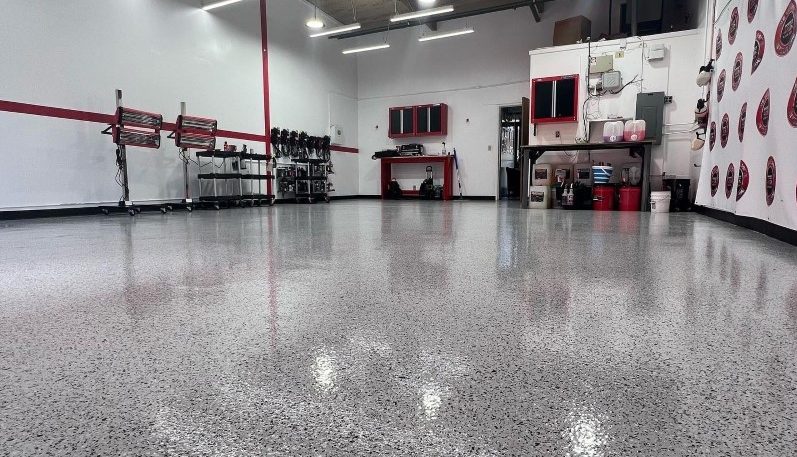 Car Garage

Car Warehouse

Living Room

Show Room
OT Epoxy Floors can create any combination you can imagine with different colors and sizes. You can choose the exact look you want for your space. 
One of the main benefits of Flakes Epoxy Flooring is its durability. The resin and a hardener blend creates a strong bond that is resistant to cracking, chipping, and peeling, so your floors will look great for years. 
In addition to being extremely durable, Flakes Epoxy Flooring is also very low-maintenance. Unlike other types of flooring, it does not require regular waxing or sealing. 
Finally, Flakes Epoxy Flooring is very affordable. It can be applied directly over an existing floor, which eliminates the need for costly removal and installation of new materials.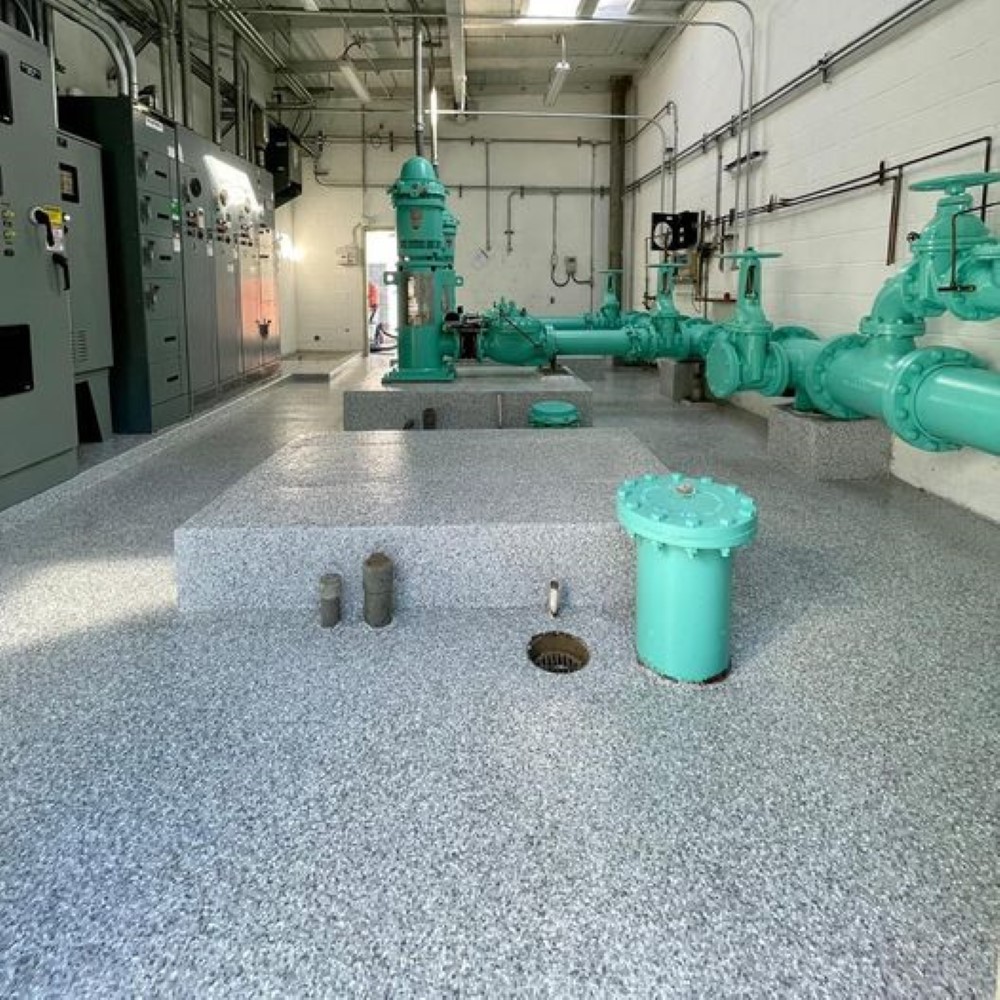 a) Pre-Epoxy System
Surface Preparation:

The surface preparation  is an essential part of any Flakes Epoxy Flooring system. The concrete substrate must be completely clean, dry and free of any contaminants prior to the application of the Flakes Epoxy Flooring.

Cracks Treatment:

Process to fix / fill / seal crack with specialized products to this kind of fix before adding the Flakes Epoxy Flooring System. Any cracks or divots in the concrete must be repaired with a suitable patching material.
b) Flakes Epoxy Flooring system.

The base coat is usually a two-part epoxy that is applied to the concrete surface to create a level base. 
The epoxy is then sealed with a topcoat of polyurethane or epoxy. The topcoat can be tinted to match any color scheme and provides a glossy finish. Once the base coat and topcoat have dried, the flakes are then broadcasted into the wet coating. The flakes are then covered with a clear coat to help protect the flakes and provide a uniform look:
Priming:

often the concrete require to apply a especial first layer (epoxy primer) to get best adhesion to concrete

Finish:

Solid Color Coat or Base Color

Flakes:

The Epoxy Flakes Flooring system won't be complete without Flakes over wet Base Color.

Top or Final Coat:

Polyaspartic, we offer this kind of top coat to get the best resistance and lifetime for our clients.
The initial step in the process involves thorough cleaning and degreasing of the surface to ensure optimal adhesion of the epoxy resin. This critical step prepares the surface for the subsequent application of the epoxy flooring system.
Once the surface is properly cleaned and prepped,the primer is meticulously chosen to guarantee the best possible bonding between the epoxy and the floor.
Next, the epoxy base coat is expertly applied in a thin and uniform layer using a roller or brush to ensure consistent coverage. This precise application of the base coat is crucial to achieve a smooth and flawless surface.
Following the application of the epoxy base coat, the colored vinyl chip flakes are evenly broadcasted over the surface and allowed to settle. To ensure uniformity of the chip coverage, a rubber roller is used to roll the chips into the wet epoxy, ensuring they are securely embedded.
Lastly, the entire floor is sealed with a clear topcoat, providing an additional layer of protection. This topcoat enhances the durability and longevity of the epoxy flooring system while also adding a polished and professional finish to the surface.