Frequently asked questions
1. Will my new epoxy flooring be slippery?
Depending on your specific flooring choices, your floors may have a slightly textured surface and feel or a smooth, glass-like surface. In most cases, your new epoxy flooring system will be no more slippery than regular concrete when it´s wet. If you are concerned about how slippery your new epoxy flooring will be, there are slip resistant additives that can be added to the top coat that will help with this issue.
2. How do I clean my new epoxy flooring?
You can give your new floors a light cleaning with a broom, dust mop, or even a leaf blower. For a deeper clean, you´ll want to mop your floors with simple mix of ammonia and water. It´s best to avoid any soap mixtures as these can leave a film which can cause your floors to become dangerously slippery. Metallic floor coatings show a bit more wear and tear, and need more maintenance so we typically recommend this type of look in places which will get swept often.
3. What is the best time of year to get garage floors finished?
Our products are applied year-round and are not affected by change in temperature or weather. Our crews work rain or shine
How long does it take to install epoxy garage flooring?
Our crews undertake and extensive procees of preparation that includes grinding your floor and filling cracks before applying the epoxy coating. Typically, your epoxy garage flooring is installed over a period of two days. We then allow the floor to cure for 24 hours before allowing foot traffic onto the newly finished surface.
4. Why is an epoxy floor a good choice?
These floors are smooth and have a seamless surface making the floors easier for cleaning and it does not allow the accumulation of dirt and bacteria. It also provides a very appealing look since it´s glossiness makes the room look bigger and attractive than other floor materials.
5. What is the difference between a chip floor and a solid coating?
The chip floor provides added protection and better slip-resstant properties, helps camouflage any imperfections in the garage floor, and hides soil. This makes maintenance and cleaning much simpler!
6. How long does it taker for the floor to install and cure?
Typically, 2-day installation with 12 hours of cure before walking and setting heavy items and 24 hours before 4 days.
7. How doy you prepare a concrete floor?
We only use dry diamond head grinding machines. We do not use any water or acid.
8. Do you offer a warranty? If so, how long?
Yes, we stand behind our floors with a limited lifetime warranty.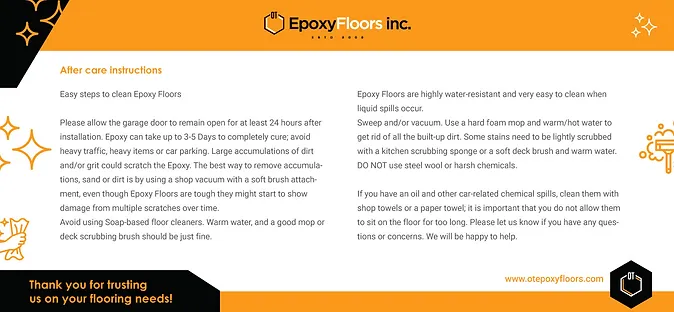 9. How do I clean my floor?
Mild soap and water, or eco-friendly cleaner.
10. Accepted method of payments?
We accept check, cash, and credit card (MasterCard, Visa, Discover and American Express).
11. My garage floor has paint, oil, stains, cracks and holes. Does that have to be fixed first? How do you fix them?
Our install will repair any cracks/holes that your floor has. As for the oil, or other stains our install team will remove the it during the drinding process. For tile, carpet, existing epoxy we can remove as well but there will be an additional cost.
12. Do epoxy floors hold up well when parking cars in a garage?
With advancements withtoday´s technology of polyaspartic topcoats you can expect many years of durability.
13. Will rain affect my install?
Typically we work with the garage doors down, unless the rain is coming in under your garage door. There is no cause to worry. In some cases, we can put up a blockade to prevent this from happening. Otherwise, rain does not affect our installs.
14. Can epoxy floors be used inside my home and not just a garage?
Yes, it can. It works just as well for interior and exterior as it does for garages.
15.Do you do epoxy flooring for commercial and industrial spaces?
16. I have a previous epoxy floor I did myself, can you remove it?
Yes, we can. The removal will be in our prepping process and we will grind it off with our machines. This process is an additional charge.