SERVICES
Liquid Diammond Flooring

Service in California
Liquid Diamond epoxy floors are a stunning and enduring flooring solution that is perfect for both homes and businesses alike. Our Diamond Floor coating is unlike any other, offering a breathtaking gloss that transforms your concrete floors into a masterpiece with a wide range of hues to choose from. The result is a luxurious aesthetic that will awe your guests with its deep, rich colors and mesmerizing light reflection.
Diamond Floor epoxy is the ultimate choice for durable and eye-catching flooring. It provides unparalleled protection and longevity, while also adding a touch of style to any room in your home or business. Whether it's smooth concrete or rough wood surfaces like decking and fences (even old, weathered decks), Diamond Floor can be applied to virtually any surface. Elevate your floors to a new level of brilliance and uniqueness without breaking the bank with our exceptional epoxy floor finish.
Experience the "bling" of Diamond Floor and transform your floors into a work of art that will leave a lasting impression on anyone who sets foot on them. Don't settle for ordinary flooring options when you can have the extraordinary with Liquid Diamond epoxy floors. Contact us now to bring elegance and durability to your space like never before.
GET NOW A FREE QUOTE
Fill this form below and we will get back to you as soon as possible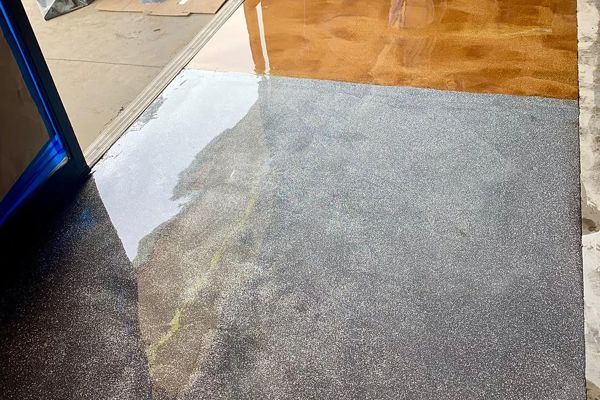 Retail stores

Offices

Schools

Hospitals and healthcare facilities

Sports facilities: Gymnasiums and fitness centers

Warehouses 

Manufacturing plants

Showrooms and exhibition spaces

Airports

Museums and galleries

Restaurants

Hotels and resorts
Durability: Liquid diamond floor finish is a robust, long-lasting coating that may shield floors from high traffic, spills, and other wear and tear.
Chemical resistance: Liquid diamond floor finish tolerates spills of strong chemicals such as acid, bleach, and solvents.
Aesthetics: Liquid diamond floor finish has a high-gloss finish that may improve the appearance of floors by making them look glossy and fresh.
Easy to clean: Liquid diamond floor finishes are easy to clean and maintain with regular cleaning and buffing, avoiding the need for frequent recoating.
Cost-effective: Liquid diamond floor finish is a low-cost approach to preserve and improve floors by giving a long-lasting coating that can save money on future repairs and replacements.
Improved floor longevity: With correct application and care, liquid diamond floor finish may dramatically increase floor longevity, saving money in the long term.

a) Preparation
Surface Preparation:

If necessary, the concrete must be ground and decontaminated.

Cracks Treatment:

Before applying the Epoxy Flakes System, cracks and holes must be repaired, filled, and sealed using appropriate materials.
b) Liquid diamond floor system
Epoxy Resin:

Epoxy resin is the primary component of the liquid diamond floor system. It provides a durable, glossy finish that is resistant to wear and tear.

Hardener:

The hardener is a catalyst that is added to the epoxy resin to initiate the curing process. The two components are mixed together in a specific ratio to ensure proper curing.

Color Pigment (optional):

Color pigment is added to the liquid diamond floor system to give it a specific color or pattern. It is typically added to the base coat layer.

Urethane Topcoat:

The urethane topcoat is the final layer of the liquid diamond floor system, which provides added durability and resistance to chemicals, stains, and UV rays.
The application of the liquid diamond floor system involves several steps to ensure proper adhesion, curing, and a high-quality finish. The first step is surface preparation, 
Once the surface is prepared, the next step is mixing the epoxy resin and hardener in a specific ratio to ensure proper curing. The two components are mixed together thoroughly, and a solvent may be added to the mixture to help it penetrate and adhere to the surface. 
Then, the mixed resin is applied to the surface using a trowel or roller, forming the base coat of the system. The color pigment is added to the base coat layer in case the customer requires it. Once the color pigment layer has cured, the final step is applying the urethane topcoat. 
Overall, the application of the liquid diamond floor system requires careful attention to detail, proper surface preparation, and a well-executed process to ensure a high-quality finish that is durable, slip-resistant, and visually appealing.